News
Testimonials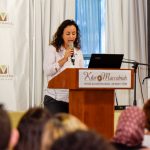 The 4th Matanel Retreat - A thank you letter from Netu'im Ben Ha Dorot: Between the Generations
Dear Joelle, Ami and Johanna,
We would like to thank you again for inviting us to attend the inspiring Matanel Conference, and for giving us the chance to present our work with the Netuim students and the elderly, to the conference participants.
read more
books
Le Chant des Remparts
Le Chant des Remparts est un essai sur La Légende d'un Prince, un conte initiatique où s'entre-tissent le merveilleux et le réel, écrit en 1943 dans un atelier de confection du ghetto de Lodz en Pologne, avec la contribution des enfants qui y travaillaient.
Dans son essai, Myriam Maman s'attache à explorer les résonances entre le texte du conte et les autres écrits des chroniqueurs, plus ou moins jeunes, du ghetto, tous animés par le souci de témoigner et d'échapper à l'horreur par l'écriture. En rendant hommage au directeur des ateliers de confection, Léon Glazer, qui sauva temporairement la vie d'un grand nombre d'enfants en les employant dans son usine, ce texte livre un témoignage voilé sur les déportations massives vers les camps de la mort qui frappèrent le ghetto tout au long de l'année 1942.
Le Chant des Remparts rend hommage aux enfants du ghetto de Lodz, aux auteurs de La Légende d'un Prince restés anonymes, à ces enseignants qui, en dépit de la terreur, ont, sous l'impulsion de Léon Glazer, animé ou encouragé des activités culturelles clandestines, faisant de la créativité un acte de résistance autant qu'un acte de foi dans le miracle de l'éducation, de la transmission et de la vie.